Recent years have brought some changes in the recruitment landscape. An important one is the shift of power from company's hands into the candidate's hands. This modern process empowers candidates with a good Candidate Experience, the same candidates that back in the day they normally felt hopeless and forgotten during a hiring process.
The era of just posting that "perfect job" and waiting for candidates to apply has long gone.
Now the recruitment process is more candidate-centric and more complex for that matter. Employers need to be proactive with their recruitment techniques, they need to target the right talent, build relationships, engage and nurture. It seems like a lot to do but in the long haul is totally worth it. With this approach employers build strong Talent Pipelines, they have their eyes on the future, they have the best talents and they are ahead of the competition.
During this new era of candidate-centric recruitment it is important for your agency to align to the new trend and make the most of it. The importance of a candidate experience, bad or good, is a major part of the recruitment efforts right now and employers are using technology, different tools and systems to monitor candidate experience during their recruitment processes.
But what exactly is Candidate Experience?
Candidate Experience is how candidates interact with a company during a recruitment process, the communication established between the candidates and the company, how they perceive this interaction and what they feel about it. A Good Candidate Experience benefits both parties. Employers in particular are very concerned about building and maintaining the necessary steps for a successful Candidate Experience.
Your agency can benefit from this shift and can finally start putting candidates first in the recruitment process. We know that sometimes, in this fast paced environment, the employer's needs are the first to be considered and you can easily miss some of the candidate's needs.
Why is a good candidate experience so important?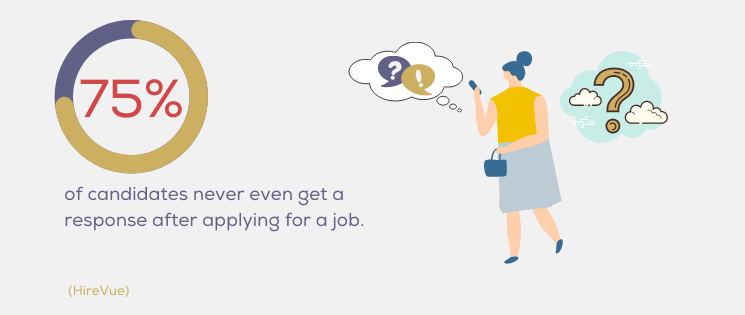 The way the candidate feels during a recruitment process can make or break an employer's brand. Studies show that 75% of candidates never even get a response after applying for a job (HireVue). Feedback is so important for candidates in an interview process. But because most of them don't get it this leaves them frustrated and unhappy about the hiring company – which leads to bad reviews online and amongst friends and family.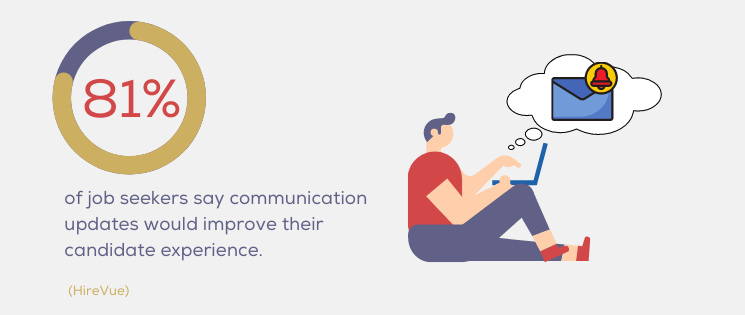 The same study shows that 81% of job seekers say communication updates would improve their candidate experience (HireVue). So is not just about that final feedback but the entire recruitment process. Candidates want to feel heard, they want to ask questions and they want to feel like part of the process. A serious lack of communication during an interview process can leave the candidate under the impression that this is how things will look even when he or she will get the job.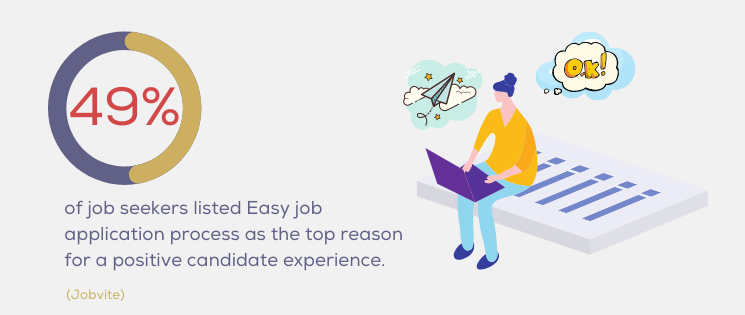 Another major disappointment among candidates is the application process. Career sites and pages require a great amount of information from a candidate's behalf before hitting that apply button. 49% of job seekers listed Easy job application process as the top reason for a positive candidate experience. 44% of candidates would like to schedule interviews more easily (Jobvite).
Good or bad, candidate experience impacts your recruitment agency
Considering these (we may add: perfectly reasonable) requests, employers around the world are putting strategies in place so that candidates can have a good experience during their interaction with the company. Technology is a big part of the candidate experience puzzle, together with building a great company culture. 
But candidates are sometimes unhappy with your agency's recruitment process too. In most of the cases they experience poor communication with employers. So they turn to your agency for help. They hope for a better understanding of their needs. Candidates see your agency as the bridge between their needs and employers. They expect from you to understand the hiring market and multiply their efforts in finding a more challenging job. Both you and the employers want to offer candidates a better experience. The employers have their own strategies for that. But what is your strategy? 
Employer-Centric Vs. Candidate-Centric
As a recruitment agency you are used to act like an employer. You find people for jobs, not jobs for people. But, this old fashion strategy is no longer the only way candidates and employers interact. In fact, yes, today employers do find and invent jobs for talented people in their pipeline. This is why you should offer a great Candidate Experience to the Talent who is reaching you for help. They can reach you from multiple channels: Social Media, your website, e-mail, etc. How are you engaging with them in an active way, keeping the communication flow optimized? 
Maybe you decide to make an email campaign and inform employers in your Sales Pipeline about these candidates. This would be a good way to tackle this opportunity. Second, you may think to put out there the information about these candidates, maybe create a new page on your website. In the first scenario, you are limited to a one time presentation, and what we mean by this, is that you send each time an email to each employer. For the second one, making this information public about candidates may leave only a small number of candidates interested in this approach.     
How many placements can you make this way? Is it enough? Is it profitable?
Switching the process from employer demand to candidate demand shouldn't be a problem if you look at these 2 processes as being different. This is the why behind our Match & Share platform. Taking a closer look at the 2 scenarios above, they ask a great deal of work from your side and the processes leave room for automation. But still, you should change the way you work. You are a Consultant and covering needs from your employers is what you like to do. You should stay focused on finding candidates and employers who understand the need of a Recruitment Consultant in their need to fill a gap.
Candidate Experience is the way to go in the recruitment landscape, where each part plays its role puting candidates first. Candidates spend less time looking for a job using classic methods (job portals, google, etc) because they belong to a pool of candidates managed by agencies. Agencies are digital and use technology to optimise their communication processes. They provide quality and verified data about candidates to employers. Employers spend less time looking for candidates and interviewing them because they always have verified and active talents in their pipeline. In our Match and Share platform we believe offering a better Candidate Experience starts with understanding your recruitment agency.